— Innovative & Advanced Treatment Technology with Aerobic Granular Sludge

Nereda® is an innovative and advanced biological wastewater treatment technology which was invented by the world-renowned Delft University of Technology. After 20 years of research and development, this innovative biological solution is now proving itself as the leap forward in wastewater treatment technology.

Nereda® system purifies water using the unique features of "aerobic granular biomass". Contrary to conventional processes, the purifying bacteria concentrate naturally in compact granules, with superb settling properties. As a result of the large variety of biological processes that simultaneously take place in the granular biomass, Nereda® is capable of producing excellent effluent quality. Even when not particularly targeted, extensive biological phosphorus and nitrogen reduction is an intrinsic attribute of this technology, resulting generally in chemical-free operation.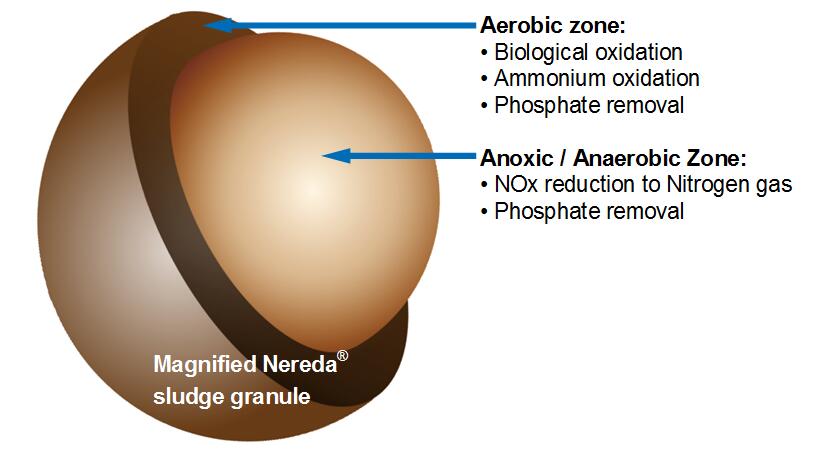 These unique process features translate into compact, energy saving and easy to operate Nereda® installations for both industrial and municipal wastewater treatment. Nereda® presents attractive new solutions for green field installations and retrofitting or extending conventional activated sludge plants. The technology is also highly recommended for performance and capacity upgrades of existing SBR-facilities. With tank sizes already similar to the world's largest SBR-tanks, the technology is proven and applicable for even the largest applications.

We are confident in proving the advantages of Nereda® and fitting designs that exactly meet your current and future needs. We can provide convenient technology packages inclusive of special hardware, and deliver complete easy-to-operate plants in any contract type preferred by our clients. Our extensive added-value services range from up-front design/engineering to system commissioning / startup to effective operational support during long-term operation of treatment facilities.