Nereda® — Highly Decorated Wastewater Treatment Technology
Author: BEEC Update: 06 27-2016
As an advanced wastewater treatment technology based on unique features of aerobic granular sludge, from the moment it's launched, Nereda® process obtained extensive recognition in the wastewater treatment sector and market with its excellent effluent quality, lower CAPEX and OPEX (than conventional processes), simple system configuration etc. and it has been rapidly spread and applied worldwide.
Today, Nereda® process and its developers have won a string of prestigious awards and honors nationally and internationally (see list below), which underline the importance and value of this ground-breaking technology. And as time goes by, the list is keeping growing...
As the exclusive licensee of Nereda® process in China, DHV BEEC has a full understanding of various expertise of the technology and successfully applying it in local market. Either in newly designed and built WWTP, or upgrading / revamping of existing treatment works, we can provide high quality products and services. We'll continuously work to expand its application in China and contribute to environmental quality improvement and sustainable development.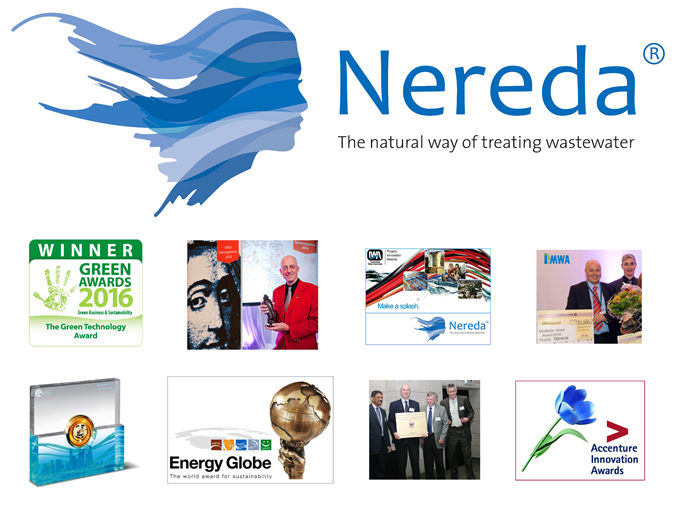 •
2016 The Green Technology Award
•
2015 Local Authority Engineering Initiative Award (for Clonakilty WWTP project)
•
2015 BlueTech Disrupt-o-Meter Award
•
2014 Muelheim Water Award
•
2014 NWO Spinoza Prize
•
2014 IWA Project Innovation Honor Award
•
2013 Dutch Water Innovation Award
•
2012 Lee Kuan Yew Water Prize
•
2012 European Inventor Award (runner up)
•
2010 Energy Globe (national winner)
•
2009 SAICE Technical Excellence Award
•
2008 European Business Award for the Environment (runner up)
•
2007 Water Quality and Safety Award
•
2007 STW Simon Stevin Gezel Award